Interstate 45 Frontage
The best of both worlds is available in Oak Ridge North! If your business thrives with "going-to-work" commuters, you will enjoy northbound commuter traffic into The Woodlands' primary business district. If your business seeks "going home" commuter traffic, you will enjoy the afternoon traffic traveling on I-45 from Houston toward Montgomery County's premier residential areas. Over 253,000 vehicles per day travel the I-45 corridor in Oak Ridge North.
Oak Ridge North's interstate frontage is located immediately across from The Woodlands Mall, a premier shopping destination with over 1.3 million square feet of shopping and 14 million visitors per year! We are home to several recently renovated centers that offer competitive rates and stable co-tenants to provide traffic to your door.
Neighborhood Centers
Oak Ridge North also provides strong neighborhood locations for retail. Robinson Road and Hanna Road are significant arterial streets in South Montgomery County serving a retail trade area population of 106,000 residents…and growing! Our prime locations are adjacent to area schools and after-school activities that feed business into these neighborhoods.
We look forward to welcoming your business to Oak Ridge North!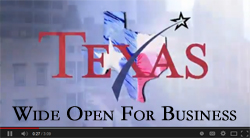 Governor Greg Abbott reviews the many excellent reasons why the business climate in Texas is just perfect for growing industries.