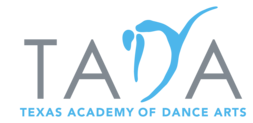 Hanna Business Park, Section II LP is proud to announce that Texas Academy of Dance Arts, known as TADA will be leasing the front 9,000 square feet of space in Hanna Business Park Section II. This is the first lease to be signed for the new 104,000 sf development that is under construction. The first 24,000 sf building and a 9,000 square foot building will be completed on June 1. Texas Academy of Dance Arts is accepting enrollment now and Fall classes will begin on Tuesday, Sept 2nd 2014.
TADA will offer dance classes for all ages and levels, beginners through advanced, in ballet, jazz, tap, contemporary, hip hop, drill, Mommy n' Me, and more.  Classes for adults will also be available, as well as yoga, Pilates, and Zumba.  From the "TADA Tinies" and beginner program through the advanced Master Class Series, each class will be taught by only the most positive and well-qualified instructors. TADA also will be holding auditions for its competitive dance company, Star Team, and Hip Hop Crew in July. TADA's state-of-the-art facility will boast a large gallery with dancewear boutique, five beautiful dance rooms, and the latest in training equipment, video observation, healthy snacks, and more!
John Tatum, Managing Partner of Hanna Business Park, Section II LP spoke about the new tenant. "We are thrilled to have Texas Academy of Dance Arts in Hanna Business Park, Section II. This new business venture is a great anchor tenant to the new section. It is compatible with many of the existing tenants and will be an exciting and successful new business in the City of Oak Ridge North."
Kristan Ballard, Owner and Studio Director TADA, is very excited about the opening, "Our TADA dance program is the result of years of careful planning and design, and we are looking forward to opening our doors in Oak Ridge this Fall!"
Hanna Business Park, Section II is located on a 5.6-acre tract near the corner of Robinson Road and Hanna Road in an office/ warehouse complex. Tatum said it will be an exceptionally flexible facility featuring metallic buildings that provide a total 104,000 sf of enclosed retail/office/warehouse space. This will consist of four 24,000 sf buildings and one 9,000 sf building. The new phase is currently pre-leasing. The other buildings will follow in phases.
John Tatum, Greater Houston Commercial Real Estate
713-367-5549, jat@ghrs.com, www.hannabusinesspark.com
Kristan Ballard, Owner and Studio Director TADA
832-444-3192, www.dancetada.com, tadadanceinfo@gmail.com
Save